Pak-Austria Fachhochschule Institute of Applied Sciences and Technology along with National Cyber Security Lab are bringing Certified Ethical Hacking workshop. Aim of the workshop is to provide required skills and knowledge to become a competent ethical hacker and to enhance career opportunities.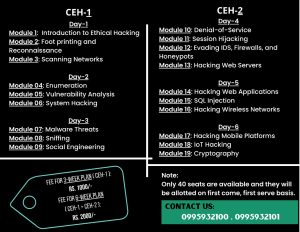 The modules covered will be:
Module 01: Introduction to Ethical Hacking, Module 02: Footprinting and Reconnaissance
Module 03: Scanning Networks Module 04: Enumeration
Module 05: Vulnerability Analysis Module 06: System Hacking
Module 07: Malware Threats Module 08: Sniffing
Module 09: Social Engineering Module 10: Denial-of-Service
Module 11: Session Hijacking Module 12: Evading IDS, Firewalls, and Honeypots
Module 13: Hacking Web Servers Module 14: Hacking Web Applications
Module 15: SQL Injection Module 16: Hacking Wireless Networks
Module 17: Hacking Mobile Platforms Module 18: IoT Hacking
Module 19: Cryptography
Registration is open now till 19 May 2022. Apply Now
Hurry up, only 40 seats are available and they will be allotted on "first come first serve" basis.