We're thrilled to share that Professor Zaheer-Ud-Din Babar, Professor in Medicines and Healthcare,
Director, Centre for Pharmaceutical Policy and Practice Research, Department of Pharmacy, University of Huddersfield, United Kingdom, paid a visit to Pak-Austria Fachhochschule: Institute of Applied Sciences and Technology (PAF: IAST) on 28.08.2023.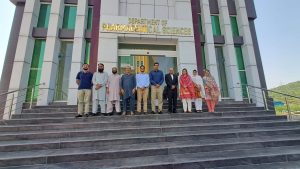 During his visit, Prof. Babar engaged in fruitful discussions with PAF: IAST leadership, paving the way for exciting future collaborations on the global stage. He was deeply impressed by the university's innovative approach to skilling Pakistan and forging strong ties between academia and industry.
Taking a tour of the Department of Pharmaceutical Sciences (PAF: IAST), Prof. Babar extended his heartfelt appreciation to the faculty members for their dedicated efforts in establishing this department, under the leadership of department's chair Prof Dr. Azhar Hussain, in such a short span of time. He expressed his unwavering optimism for the department's bright future.